The newsletter, far from dying, is gaining more and more importance in the digital strategy of the brands. Because of this, it has become a mandatory communication tool as long as its use is reasonable and is entitled to "pester" the inbox of our users.
WHAT IS A NEWSLETTER?
A newsletter is a digital publication that is distributed through e-mail with a certain periodicity (daily, weekly, monthly, bimonthly or quarterly). The newsletters are usually made up of different articles of interest to subscribers about the brand or the sector in which it moves and accompanied by some offer or CTA towards premium content or a product / service.
Typically, people who receive this type of communications are subscribers who have previously shown interest in the brand and have agreed to receive this information. This is of vital importance since we only have to send communications that the user has previously requested. Whenever possible, it is imperative that the user double opt-in before receiving the communications.
WHAT IS A NEWSLETTER FOR?
The newsletter is a communication tool with great potential for conversion and loyalty . Because of their low cost, brands are able to impact more often their users , thus maintaining a continuous link with them.
Also, newsletters are a perfect tool to generate web traffic . This stimulates the sales of your products or services, either by generating new customers or by relying on the old ones. Keep in mind that the public that receives it has previously shown interest in the content and (usually) has expressly requested the receipt of such communications.
This feature makes your conversion ratio to client considerably higher than that of other communication channels such as social networks.
On the other hand, the newsletter is a perfect channel to bring users special promotions , thus increasing the lifetime value .
WHY SHOULD YOU IMPLEMENT IT IN YOUR DIGITAL STRATEGY?
Today, a registered user or a subscriber has a great value. And there are a lot of reasons why to make a newsletter :
Email has a much longer lifecycle than social networks.
91% of marketers check email at least once a day.
Email is the primary lead generation channel for 89% of marketers.
80% of consumers prefer email as a marketing communication channel.
Email marketing has a ROI of 4300% , much higher than other digital communication channels: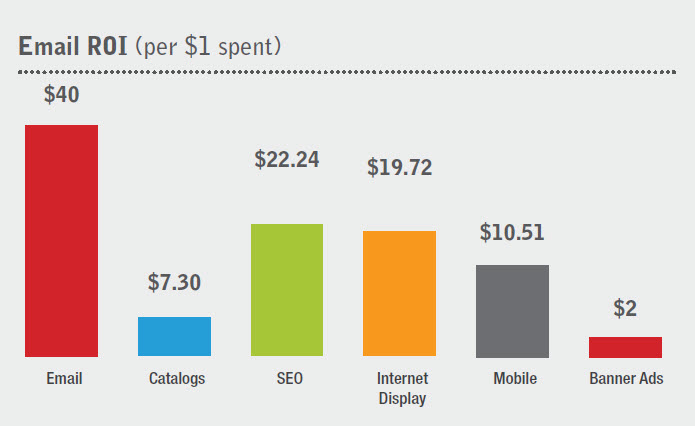 The receiving public is predisposed to receive your content. He is interested and has accepted to receive it.
It does not require a great economic investment.
It allows you to bring more traffic to your website.
There are many advantages of making newsletters, however, we must be careful when making these communications, always thinking first of the user and knowing that, as we are going to disturb him in his day to day, we must make sure that we are going to bring value with what we are sending you.
It is for this reason that hyper-segmentation is key when it comes to communicating. Do not send the same to everyone, segment the communications in a way that attracts more attention and less rejection.
Scott Herbert is a Web Developer & Digital Marketing Strategist. Currently working with Oracom Web Solutions as Lead Digital Marketing Strategist and Search Engine Marketing trainer for ORADMT. He is Team Member of Blumedia Digital Consulting
About us and this blog
We are a digital marketing company with a focus on helping our customers achieve great results across several key areas.
Free Consulting
Are you in need of digital marketing strategists?
Email Marketing,
Social Media,
Serach Engine,
CRO or
Mobile Marketing?
Then drop us an email.
Subscribe to our newsletter!
The 10-Point Perfect SEO guide. Just like anybody else, you might have come…